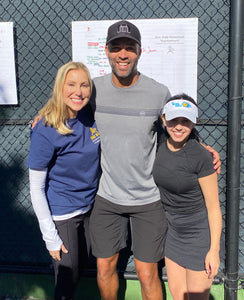 Winning...
2021 is coming to a close.  Thank GOD!
The PHIT Warrior went out with a bang and helped run an event in Fairbanks Ranch.  The memorial tournament for a lost friend husband and father, Eric Dale.  The event raised a few $$$ for a local charity, Seeds of Hope.
The event had 4 divisions from beginner to advanced.  With some quiet voices and outstanding participation cooperation the event went off without a hitch.  I am amazed at what happens when people step up while thinking of someone other than the SELF.   THIS IS WHAT WARRIORS DO.
We had a surprise guest in the form of one JAMES BLAKE who partnered with the Memorial Honoree, Diane Dale.  It was an honor to have James slide onto court on short notice and absolutely blow away his partner with kindness and support.  
Also in attendance were good friends who stepped so far up for the PHIT WARRIOR and partnered with good people to make the event really run well.  I am so grateful for my friends who selfless gave their Sunday to support ME, The Warrior, and the Charity.
While the Tournament itself went very well with two off site courts coming into play.  The "staff" that organized, marketed, fundraised, ... I am blown away at what people are capable of.... makes me think that the PHIT WARRIOR is ready to reach out for more help... seems to lighten the load when many hands contribute.
---